So, the other night, I went to my local game store and one of the guys was playing Lizardmen in a Warhammer Fantasy match. I haven't played WHF in about 2 years so I hadn't seen the new models or the new army book (check out the
Games Workshop Lizardmen
page for more info). The new minis are great, especially the new stegadon. So I came home and started digging mine out. I totaled it up and the bare minimum is 2,006 points. Here's the whole army.
And here are the pieces.
16 Saurus
4 Swarms of Jungle Reptiles, a flaming lizard with crew (forgot the name right now), and a skink priest.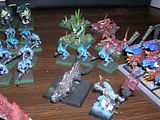 T-Rex - rider coming soon. This is probably my favorite model I have painted.
24 Skinks with blowpipes, 24 skinks with spears, and 14 Cold Ones (riders coming soon).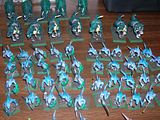 5 old school terradons and the walking wounded. The terradon on the far right is the one I pinned in the last post.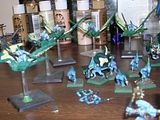 9 chameleons.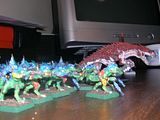 I have some great stuff here. Now I just need to finish the riders and base the stuff. I also have an old school stegadon that needs building.