Orks invaded my work space! I swear I had nothing to do with it! I came in to find them disembarking from a normal looking tool box. They even ran the cat off!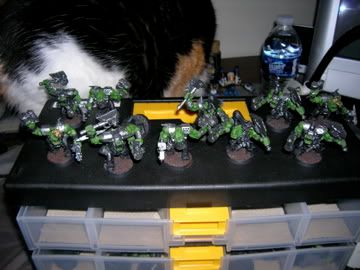 It wasn't long before they had taken over my entire shelf and were running my other mini's off the edge.
I got as close as I could and snapped these pics hurriedly. There are about 11 big ones.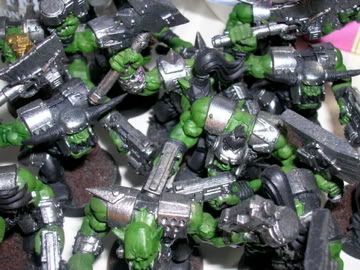 There are about 40 of the normal green ones.
There are gretchin running amok (but all posed the same)
There are also several with big guns and some sort of miniature cannon (not pictured yet). They are led by the big guy himself.
If you look closely behind the big guy, you can see they brought their own paint and they are demanding to be finished. They also say there will be 9 Deth Kopta's heading this way in a week! What's a girl to do?!!
Ok, so I may have spent a little money, buying the tool box off my good friend (and new follower)
Coffey
but I swear I didn't know they had hitched a ride... =)