Originally, White Dwarf published a painting workshop for Lizardmen, May 2003, Issue #280. I just found the sheet in my files and wanted to commit it to the website before I lost it again. Please feel free to skip to the pic at the end =) This is an adaptation of their article from page 20. (That issue also has a great article on building a game table!)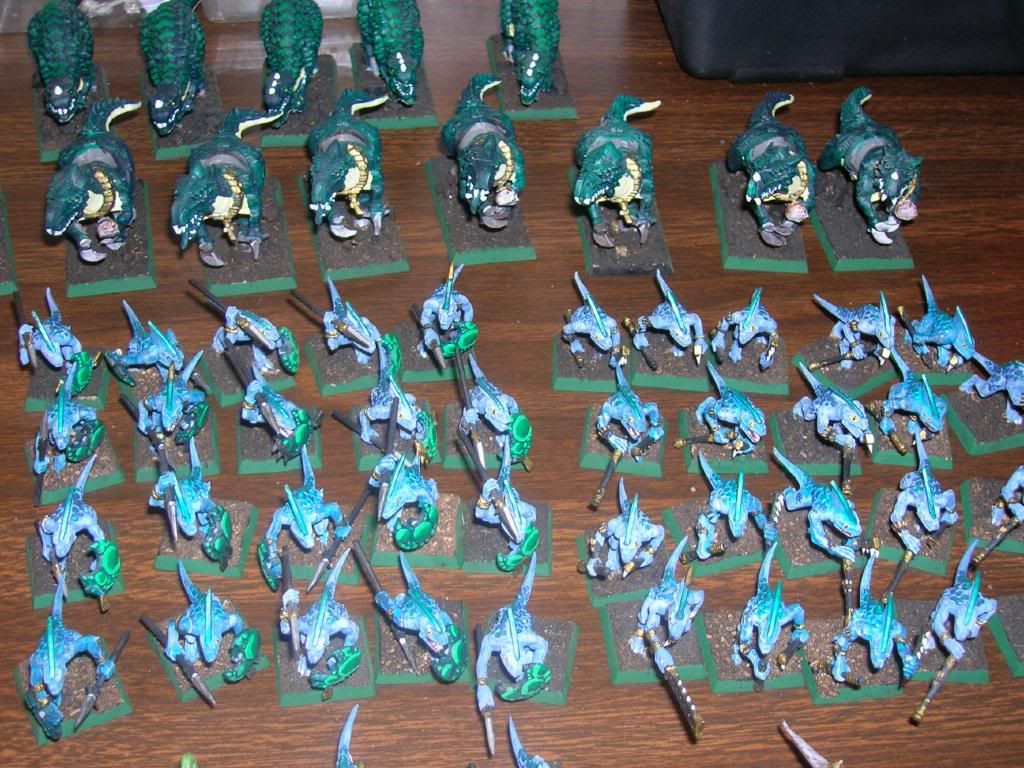 Prep:
Assemble the model

minus the shield

. Consider pinning the arms but know they are going to fall off. If I do these again, I will try to position most of the arms "tucked in" so that the blowpipe arm is less likely to pop off.

I might also consider doing these off the bases so I can do more with the bases but there are so many, it is simply faster put them on the base. Also, their legs are far enough apart to drybrush easily.
Now is also the time to glue sand, cork, or any pebbles you want on the base.
This is also a good time to make the movement tray for them and coat it with sand.

I also think it would help to magnetize the mini's now so they can be more easily handled.

Undercoat:
Spray

Black

or black primer on the mini's and the movement tray. Touch up with watered down

FA's Pure Black

.

Now paint the whole model (except perhaps the weapons but this can be touched up later) with

FA's Thunder Blue

thinned with a little water.

Bases:
Now is probably a good time to over brush the base and movement tray with

FA's Burnt Umber

.
Then drybrush with

FA's Teddy Bear Tan

. Set the movement tray aside now until it is time to varnish and static grass.

Shading:
Wash the skin with

FA's Azure Blue

and water 1:1.
Drybrush the skin with

FA's Baby Blue

. The article said GW's Shadow Gray and GW's Space Wolves Gray but I went with just Baby Blue.
Paint the inside of the head fin with

FA's Light Blue

.
The crest is lined with

FA's Metallic Emerald Green

.

Back Scales:
Paint with

FA's Thunder Blue

.
Then paint with

FA's Metallic Emerald Green

.
Weapons:
Hand weapons and blowpipes are given a basecoat of

FA's Pure Black

.
Then drybrushed with

FA's Medium Gray

(GW's Codex Gray).
Shields
Spray black primer
Dry Brush

FA's Hauser Green Dark

pretty heavy but try to leave the black in between the scales.
Paint the top half of each scale with

FA's Holly Leaf

.
Add a highlight line around the top of each scale with a mix of

FA's Holly Leaf

and

Tapioca

, 1:1.
(The following 3 steps mimic the jewelry section and can be done at the same time).

Jewelry and metallic bits on the weapons:
(If you have done the shields' scales, this part can be applied to their details too.)

Basecoat the jewelry with

FA's Pure Black

.
All metallic bits were painted with

FA's Metallic Pure Gold

, then washed with

GW's Brown Ink

. Today, I might try FA's Metallic Antique Gold or P3's Brass Balls, but back then I used the Pure Gold and ink wash.
Teeth on the hand weapon, teeth on the shields, and darts on the blowpipe were picked out with

FA's Teddy Bear Tan

, then highlighted with

FA's Tapioca

. Leave some of the Teddy Bear Tan to give the teeth an aged look.

Mouth:
The mouth and tongue were painted with

FA's Alizarin Crimson

, similar to GW's Red Gore.
Highlight the tongue with

FA's Skintone

.
Pick out the teeth with

FA's Tapioca

.

Eyes:
The eyes were painted with

FA's Medium Yellow

, then a small dot of black was made in each pupil with a

very fine tip sharpie marker

. Okay, so it's cheating a little but those things are incredible small!
Glue on the Shields.
Check them over for details and paint the edges of the bases black again.
Varnish the mini's and the movement tray with matt varnish.
Eyes, tongue, and mouth can be painted with gloss varnish for a more realistic wet look.
Glue on Static grass on the mini's and movement tray.
March them off to war!