I started working on my Tharn again. Their last post is
here
. When I can't quite figure out the next color, they often get left alone for a while. I recently read on
GWpertinent's site
that this is why you should have several units going at once. That way, if you get stuck on one unit, you can paint another one for a while. I like his advice (and his site!) and I'm considering which other unit to start again.
Several notes:
Sorry these aren't the best pics but thankfully I was focused on the painting rather than the photography.
Just a reminder, I use the Folk Arts (FA) paints on my models unless otherwise noted.

I did a wash of Burnt Umber over the bracers, which you couldn't really see once it dried.
Next, a wash of Honeycomb over the bracers which lightened it but ultimately I wasn't happy with.
I did like the GW Dark Green Ink (I don't think you can get this anymore) over the axe, letting it run into the runes.
I dry brushed FA's Metallic Gunmetal Gray over the green on the axes. It darkened and mostly covered the green, leaving a slight green hue and the runes. I really like FA's metallic line and recommend y'all check them out. They have a high density of metallic particles and come in a variety of colors.
Then, I edged the "sharp" part of the blade with FA's Metallic Silver Sterling. I am really pleased with this effect.

The hair looks crazy here and even crazier in person. I used FA's Alizarin Crimson, one of their Artist Pigment line. The artist pigment line has a higher concentration of pigment in the paint. It has to be thinned some but offers great coverage. Normally, this color looks like deep brick red but somehow on him it looked punk!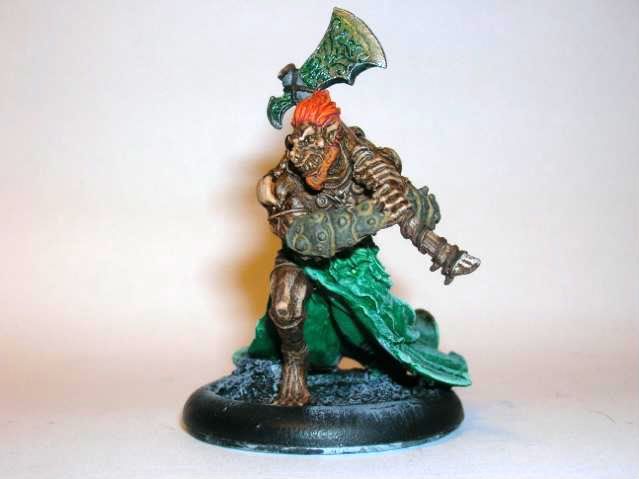 Thankfully, drybrushing FA's Pure Orange brought the hair back where I wanted it!

Here, I have lined the bracers with a thin coat of Honeycomb. I also lined the straps and axe bindings and painted the head coverings (not shown on this model) with the thined Honeycomb.
I did a light wash of GW's Chestnut Ink on the bracers and I think I can finally live with them.
I have come to the conclusion that I will never be a great painter but I wouldn't feel too bad sticking this on a game table. There are a few more fidely details to paint but these are nearing completion!
Tharn Ravagers were 63% ---> now 83% complete!