Tharn Ravagers:
I have the details finished as good as they are going to get. I think there is still a feather I hadn't painted in these pics but other than that, the painting is done! These are well on their way to being completed by my Aug. 30th deadline. I just have to varnish and flock them.
Tharn Ravagers were 83% ---> now 95% complete!
(click on the pic for a larger view)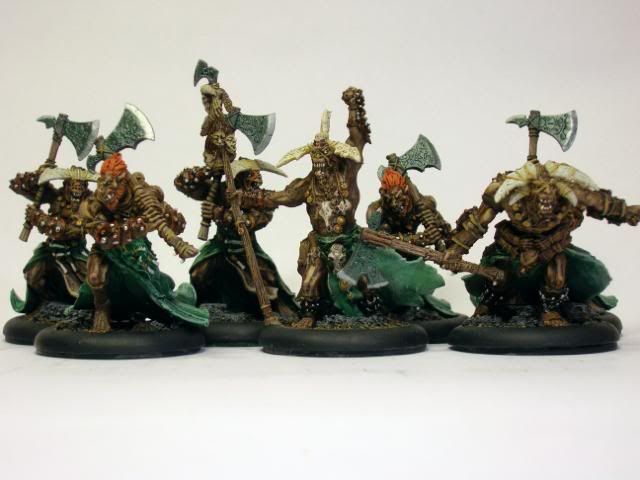 Steaks:
I wanted to throw this in. A while back, I read Andy's post over on
Little Lead Heroes
about
salting steaks
. I was skeptical but checked out the
Cooking Page link he referenced
. It talks about coating your steak with a layer of sea salt, then letting sit for a while (time table based on thickness of steak provided at the end of the cooking page). I had a skirt steak (cheap and thin) so I decided to give it a shot. If I messed it up, I was only out $2.
I wish I had an after shot but we ate it too quickly! It really did work and the steak tasted great. It was still a little chewy, but it was a skirt steak. However, it was much better than it would have been with out the salt treatment. Follow the directions on the two links above and try it for yourself. I also really enjoyed making garlic and basil butter, as per the directions near the bottom of the cooking page. The basil was fresh from my garden!
Sales!
I went to Hobby Lobby yesterday and they are having a good sale on stuff I wanted.
All Brushes = 50% off
All Art Paper = 30% off
Winsor & Newton Gloss Varnish and Matt Varnish bottles found on a clearance rack normally $9.49 each = $5.69 each! That's 40%.

I am feeling pretty good about that =)